Message from the Mayor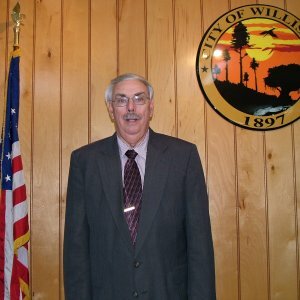 Hello and thanks for checking out our web site. Let me welcome you on behalf of our citizens, the Williston City Council and staff and volunteers, and myself. I hope that we have listed all of the information you would like about our community and we will gladly send you any additional information you may need.
As you can tell, we are a small town in north central Florida and our life style is more of a rural farming community however, we are only approximately 20 miles from the larger cities of Gainesville or Ocala.
Williston is situated as the "Gateway to the Nature Coast" in north central Florida. We are a member organization of the Heart of Florida Economic Development Consortium as well as the Heart of Florida League of Cities. We have a wonderful climate which is suitable for golf, fishing, hunting, camping, and many other outdoor sports or recreation.
We are a great place for young couples wanting to raise their families, for seniors wanting a great location to just relax and live, or for a business/industry wanting a great site for location. Williston is the place for you.
Please let us hear from you. Use our contact information located at the bottom of each page on this web site. Stop by for a visit to take a look around our beautiful city and to meet the people.
We hope you will enjoy meeting us while building wonderful memories and just maybe, you will want to become a Willistonian.
May God bless,
Mayor R. Gerald Hethcoat.