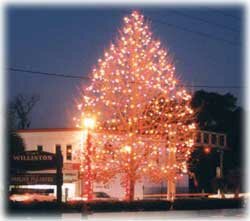 Community pride and holiday cheer make the annual "Light Up Williston" celebration memorable for all who attend.

Long before the starting time of 6 p.m., folks fill up parking spots and gather along Noble Ave. to claim the best vantage points from which to view the holiday extravaganza. Children scramble for the candy tossed out along the street. Adults watch expectantly for an anticipated favorite float to pass by. With the Williston High School marching band, the fire department, local floats and more than a dozen seated riders from the horse club, the parade is truly a hometown celebration.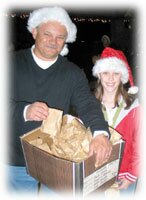 Before the parade, many people stop by the GFWC Woman's Club tent to purchase dinner, snacks and hot chocolate.
After the parade, everyone treks back down Linear Park to the city's pavilion where the structure is put to good use as folks gathered to hear children and adults alike sing many holiday favorites. The annual reading of a favorite Christmas fable provides entertainment for the children.
Decorated with lights, the circular building provides the perfect venue for performances and then everyone is able to watch as the festival's namesake comes to pass: the illumination event. The mayor, Miss Williston and Little Miss Williston throw the switch to "Light Up Williston." The audience gasps and claps as the city is lit for the holiday season.